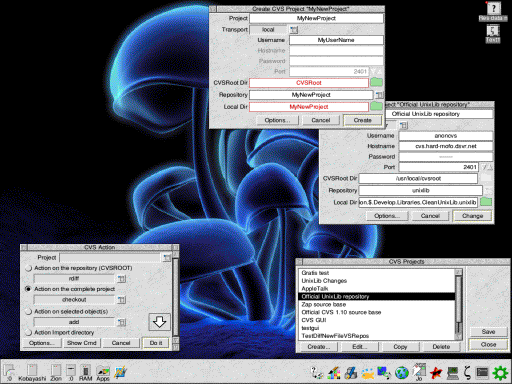 RISC OS CVS port
Latest news...
CVS command line port v0.26 based on the official CVS 1.12.9 release is released on 23 Oct 2004.
The CVS GUI front end (32-bit/26-bit compatible) v0.19 is released on 27 Nov 2004.
What ?
CVS stands for "Concurrent Versions System" and is a version control system. Using it, you can record the history of your source files (e.g. source code of your programs, contents of your web site).

This distribution has two parts : the first one consists of the command line based CVS program (!CVS.Bin.cvs) which is more or less a straight port from the original CVS sources. The second part is a GUI program allowing you to use the command line based CVS program in a more user friendly way.

The documentation supplied does not explain how to use CVS nor what each individual CVS command does. For this information I would like to refer to :
The complete book "Open Source Development with CVS, Third Edition" (ISBN 1-92311-181-6) has been released under the GPL. You can get it here. Recommended reading !
The official CVS web pages containing the latest information about CVS and also the latest version of the CVS sources.
A very nice two page CVS reference card can be obtained at http://www.refcards.com/. Very useful for the CVS command line user.
Newsgroups :
A nice CVS presentation.
If you're serious about using CVS, this article describes the "CVS Best Practices". This can also be found at the The Linux Documentation Project.
RISC OS Foundation members can read some more CVS background in an article I wrote for in the 9th RISC OS Foundation CD. There is a second CVS article published in the 12th RISC OS Foundation CD.
You need...
In order to use CVS on your RISC OS machine, you need :
At least RISC OS 3.1. Today, I only check that the code works for RISC OS Select (i.e. beyond the 4.03 release of RISC OS 4) and RISC OS Adjust but as far as I can see it should also work from RISC OS 3.1 onwards.
Have a filing system (FS) which is capable of storing filenames longer than 10 characters (16 characters or more is recommended).

RISC OS 3 users can use one of the following filing systems like raFS, X-files, LongFiles, MacFS, Win95FS, SparkFS (avoid using compression for obvious reasons) or network based FS like NFS, AppleTalk, LanMan98, ... Note that other filing systems might work too.
RISC OS 4 users can of course use the built-in FileCore based FS when their disc medium is formatted with the long filename support.

When you want to access CVS databases across the network (transport modes :server: & :pserver:), you need Acorn/RISC OS Internet stack version 5. Other Internet stacks might work too but are not tested. When you only use the local transport mode (":local:"), you do not need an Internet stack.
The CVS GUI program uses the Acorn ToolBox modules and require up-to-date versions of it.

RISC OS 4 users : a copy of these ToolBox modules together with the installation procedure can be found at the RISCOS Ltd public download area.
RISC OS Select and RISC OS 5 users : it is most probable that you will require an update of your ToolBox modules. These can be found at the RISCOS Ltd public download area.
RISC OS Adjust users : the ToolBox version of RISC OS Adjust is sufficent recent enough.
On most pre RISC OS 4 machines the ToolBox modules are already present (usually as part of the "Universal Boot Structure") but unfortunately those modules are too old. You can upgrade those ToolBox modules via a proper installation procedure found at the RISCOS Ltd public download area.

The CVS GUI v0.19 binary and source. This also contains the CVS command line program v0.26 based on the official CVS 1.12.9 release.
The CVS command line v0.26 port and source patches based on the official CVS 1.12.9 release. When you want to rebuild this command line program, you need at least a copy of the source of the official CVS 1.12.9 release as well.
You get...
The CVS command line program supports the transport modes ":local:", ":server:" (via rsh) and ":pserver:". The transport modes ":server:" (via rsh) and ":pserver" are network based (the database is accessed across the network) and only tested (with success) using the Acorn/RISC OS Internet 5 stack.

CVS SSH transport is not yet supported.

The ":local:" transport mode allows you to store & retrieve files on your local RISC OS machine and does not involve any network specific calls (nor that it requires a working network stack).
More detailed info...
More information about the CVS RISC OS port can be found :
CVS command line users probably want to avoid these pitfalls.
Before reporting an error you might want to have a look at the known problems.
Thanks to...
The RISC OS CVS port wouldn't be possible without the help of :
The CVS developers (see CVS home page)
The people behind GCCSDK & UnixLib : [alphabetically] : Nick Burrett, Peter Burwood, Simon Callan, Nicholas Clark, H. Rogers and various other people which recently joined like Alex Waugh and Peter Naulls.
Justin Fletcher for his very nice and elegant 'ee' program.
All the (beta) testers and users who provided me feedback.
Another RISC OS CVS port
There is another RISC OS CVS port by Maarten Bezemers. At the expense of a lot of code changes, Maarten managed to get pserver & SSH transport protocol running (no local mode). The ability to have SSH transport protocol is of course a very nice bonus compared to my version but many uncontroled changes were done to the CVS source code so tracking the latest CVS versions requires much more effort.
Sources
In order to be compliant with the GNU General Public License, under which the CVS GUI and CVS command line sources except the optional 'ee' program are distributed, the necessary RISC OS sources or source patches are now included in all releases you can download now.
History
The history on the CVS RISC OS port can be found here.
Contact
Questions, praises, constructive feedback, etc. are always appreciated. Feel free to contact .
---

Contact the . Last changes made on 15 Apr 2009.